The entire AZPerio team is dedicated to providing the highest level of service. We want our patients and their family members to know we demonstrate compassion and expertise throughout all phases of their treatment.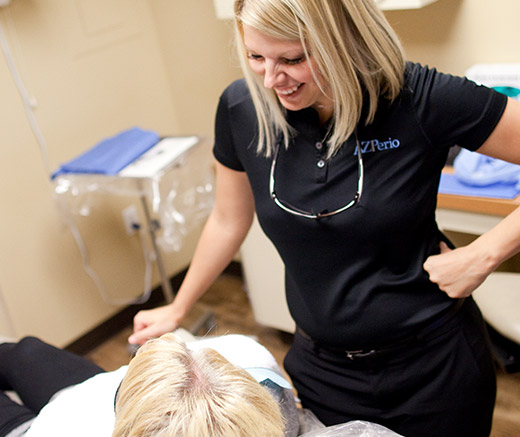 Your First Visit
Prior to Your Visit
Please complete your medical history and provide a list of all medications taken. If available, please provide any recent X-rays from other dental providers, as well as your driver's license and, if applicable, your dental insurance cards/forms.
Note: All patients under age 18 must be accompanied by a parent or guardian during the initial consultation.
During Your Visit
When you arrive for your appointment, we will complete an in-depth medical and dental health history, and will conduct a thorough examination to measure bone loss, loose teeth, bite, TMJ and other signs of periodontal disease. We will also perform an oral cancer screening.
AZPerio's doctors, with your input, will establish a treatment plan to address your disease and discuss treatment alternatives to help you obtain optimal periodontal health. A typical periodontal exam lasts about 45 to 60 minutes. Our specialists will provide a treatment recommendation, aligned with your referring practice, that will best suit your long-term needs; a treatment recommendation that is consistent with the one they would provide their loved ones.
For Implant Patients
A 3D CT scan may be recommended for dental implant patients. This scan allows for analysis of available bone, anatomical structures and nerves prior to implant placement, improving the precision and safety of this procedure. A typical dental implant exam lasts about 30 minutes.
Please notify the office if you have a medical condition or concern prior to surgery (e.g. artificial heart valves or joints, heart murmurs requiring pre-medication, severe diabetes or hypertension).
New Patients
Ahead of your initial visit, register below by selecting the location of your visit:
Returning Patients
If you are an existing patient and need to update your medical history, please fill out the form below.
AZ Perio
is rated
4.9

out of

5

based on approximately

1415

reviews from around the Web.
I have experienced quite a bit of dental care over the last 50+ years and I can truthfully say that AZPerio is Top Notch! Their Doctors and Staff are...
Catrina and Jordan were knowledgeable and professional! They made me feel comfortable the entire visit. Dr. Wilson after a decade of knowing each other thanks for being honest and all the laughs!
Dr. Donovan's hands are Magic!!! The procedure was so smooth and didn't take much time. After he pulled 5 teeth out from my mouth, I expected to have enormous pain and discomfort but I didn't have any shape pain, swelling, or discomfort for a lon time. The next day, I could go back to my normal activities. Wow!! Thank you Dr. Donovan!!
Laura was great! She was efficient and on time. When I asked for a dentist referral near my home in north Phoenix (Tatum and Dynamite), I was give the name of a dentist on the west side 85th Ave. That is not close to me.
Visit and procedure handled efficiently and professionally