The entire AZPerio team is dedicated to providing the highest level of service. We want our patients and their family members to know we demonstrate compassion and expertise throughout all phases of their treatment.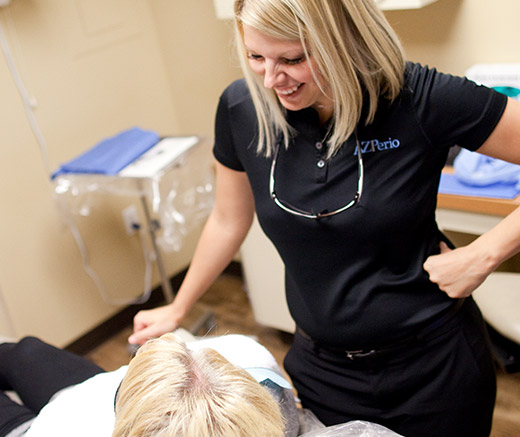 Your First Visit
Prior to Your Visit
Please complete your medical history and provide a list of all medications taken. If available, please provide any recent X-rays from other dental providers, as well as your driver's license and, if applicable, your dental insurance cards/forms.
Note: All patients under age 18 must be accompanied by a parent or guardian during the initial consultation.
During Your Visit
When you arrive for your appointment, we will complete an in-depth medical and dental health history, and will conduct a thorough examination to measure bone loss, loose teeth, bite, TMJ and other signs of periodontal disease. We will also perform an oral cancer screening.
AZPerio's doctors, with your input, will establish a treatment plan to address your disease and discuss treatment alternatives to help you obtain optimal periodontal health. A typical periodontal exam lasts about 45 to 60 minutes. Our specialists will provide a treatment recommendation, aligned with your referring practice, that will best suit your long-term needs; a treatment recommendation that is consistent with the one they would provide their loved ones.
For Implant Patients
A 3D CT scan may be recommended for dental implant patients. This scan allows for analysis of available bone, anatomical structures and nerves prior to implant placement, improving the precision and safety of this procedure. A typical dental implant exam lasts about 30 minutes.
Please notify the office if you have a medical condition or concern prior to surgery (e.g. artificial heart valves or joints, heart murmurs requiring pre-medication, severe diabetes or hypertension).
New Patients
Ahead of your initial visit, register below by selecting the location of your visit:
Returning Patients
If you are an existing patient and need to update your medical history, please fill out the form below.
AZ Perio
is rated
4.9

out of

5

based on approximately

100

reviews from around the Web.
Updated paper work and went in to dental tech had xrays and dentist was in shortly to see me. all done in under 30 minutes about what i expected
For years I have maintained that AZ Perio is best medical office in the Valley and I still do. Everyone is kind, thoughtful and skilled at their job. The office is a first rate facility. AZ Perio was at the forefront of COVID-19 safety precautions for both employees and patients. My hygienist is considerate, skilled and fun to talk to when I am in for a check-up. She always seems to be current on the latest dental trends. Dr. Fitzgerald will be in the periodontist hall-of-fame after he retires.
Pain free. The anesthesiologist and Dr Reitan are the absolute best. I trust them completely
The staff are very nice and professional.
Every step of my appointment was great. I have anxiety with dental work and all of the staff were kind and patient. I had two implants placed yesterday and I feel fine today, no pain! Really happy it is over with and heading to restoring my bite. I highly recommend everyone there, especially Sam, Dr. Wilson and Madisyn.