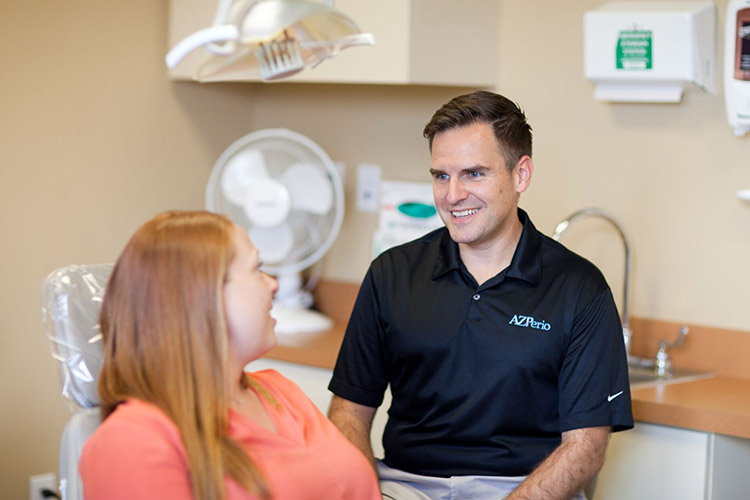 AZPerio considers it a distinct privilege to assist in each patient's care; every patient is provided with the treatment plan that our board-certified specialists would recommend for their loved ones and friends.
AZPerio's fees for treatment will vary depending on the specific needs of the patient and the treatment plan our specialists prepare in collaboration with the referring practice. An AZPerio team member will discuss the fees for treatment and each of the available payment options before treatment begins. We want the patient to make the most informed choice possible.
Payment for Services
Full payment for AZPerio's services, based on the estimated patient portion of the treatment scheduled to be provided, is expected at the time the patient or responsibility party reserves the procedure appointment.  The discount for payment in full, at the time treatment is scheduled, is 5%.
In the event the fee estimate is less than the actual fee for the services rendered, the patient will be responsible for the balance. If the estimate is more than the actual fee for the services rendered, a refund will be issued within 30 days.
Patients are reminded they will also be responsible for services related to their related treatment that takes place at the office of their referring practice. Online payment is available for patients with balances on their accounts.
A patient's healthy smile is meant to last a lifetime; the AZPerio team wants to make it as easy as possible for each patient to receive the recommended treatment as soon as possible.
Insurance Information
We encourage patients to ask our team members questions about their insurance coverage. Typically, dental insurance offers patients limited coverage for services provided by specialists. It is important that patients maximize their annual insurance benefits for preventive care in the offices of their general dentistry practice.
AZPerio's specialists are an in-network provider with Delta Dental Premier. However, we accept all insurance plans. Because we're not contracted with specific insurance companies, we have more flexibility with our fee schedule. This benefits our patients because it allows them to maximize their insurance benefits in the general dentistry practice. Regardless of insurance carrier, we're delighted to optimize utilization of dental insurance benefits with those patients fortunate enough to have it. Additionally, it's important to emphasize that the referring practice recommends patients to specialists based on the specialists' long-term effectiveness in achieving the clinical and aesthetic goals, irrespective of dental insurance.
AZPerio's team members are always available to help patients with insurance claims and paperwork. We'll work with your insurance provider to help you maximize your benefits. Upon request, we will provide patients with a predetermination of their insurance benefits.
Financing Options
AZPerio works with several financial institutions to offer its patients financing options for their treatment.
Care Credit financial
Care Credit is another company that offers convenient payment plan options. Care Credit offers up to 12 months no interest financing and your Care Credit card can be used anywhere that accepts Care Credit including but not limited to Dentists, Veterinary Offices, Chiropractors and Eye Doctors.
Convenient Online Services
With the simple click of a mouse, our secure online service allows you to:
View your appointment and account information any time
Sign up for email or text appointment reminders
Check your payment history and see current charges
Print out flex spending reimbursement and tax receipts
Lending Club Patient FinancingSM
Our practice is pleased to offer flexible payment plans from Lending Club Patient Financing.
No initial payment and no payment for 3-7 weeks
Affordable Extended Plans with low fixed rates & low monthly payments
6-24 month Promotional Plans
No prepayment penalty
You can calculate potential monthly payments. Or place an application in a few short minutes, and decisions are typically available in seconds. For more information, just ask our team or visit Lending Club.