AZPerio's board-certified periodontists are committed to providing their referring offices with high-quality Continuing Education (CE) opportunities. The course topics are developed with input from referring offices to ensure the CE topics reflect practice needs, with relevant topics designed to improve practice operations and patients' clinical outcomes.
To register for AZPerio's upcoming CE Courses or to inquire about the schedule, please contact AZPerio Practice Liaison Gina Fiorito at gina@azperio.com or 630.464.9023. AZPremier offers CE courses throughout the year.
AZPremier Doctor Study Club
An affiliate of the internationally renowned Seattle Study Club, the AZPremier Doctor Study Club was founded in the Phoenix/Scottsdale area by the doctors of AZPerio. AZPremierStudy Clubs is a "university without walls," providing clinicians with access to leading dental authorities in a variety of fields. Through presentations, articles, case studies, webinars, lectures and workshops at the annual Seattle Study Club National Symposium, we have provided an exciting opportunity to engage in and advance the practice of dentistry.
The Seattle Study Club is recognized as one of the most advanced continuing education groups for dental professionals in the nation. Members participate in hands-on demonstrations, problem-solving workshops, panel discussions and clinical treatment planning sessions. Seattle Study Club is an international network of more 250 affiliated clubs with a combined membership of 6,700 dentists.
For more information, visit Seattle Study Club or contact AZPerio's Gina Fiorito.
AZPremier Hygiene Study Club
The AZPremier Hygiene Study Club was established to enhance hygienist collaboration among AZPerio's hygienists and periodontists through high-quality continuing education, a sense of community and access to nationally recognized speakers. It is the organization's mission to continuously improve the care of our mutual patients through education and partnership in patient care excellence. The AZPremier Study Club academic calendar runs September through May, with approximately one event per month. Continuing education courses are offered at both North and South locations for the convenience of members. AZPremier Hygiene Study Club is an invitation-only study group.
To learn more, contact AZPerio Practice Liaison Gina Fiorito.
AZPremier SPEAR Central Phoenix
AZPremier SPEAR is a small group, discussion-based study club where members collaborate on case planning and improve their clinical expertise. It's designed to help members build confidence in treating more comprehensive cases, increase case acceptance and enhance practice profitability. AZPremier SPEAR meets monthly, September to May.
In addition to monthly meetings, SPEAR members have access to an online education suite featuring more 1,300 CE-eligible lessons including clinical courses, staff training for both front and back office, team meeting modules and patient education. SPEAR also offers a variety of seminars and hands-on workshops at its Scottsdale campus.
For more information, visit www.speareducation.com, or contact AZPerio's Gina Fiorito.
Other AZPremier Events
AZPremier Study Club occasionally offers additional continuing education opportunities for doctors and their teams. These courses are offered on an invite-only basis with RSVP required.
For more information, contact AZPerio's Gina Fiorito.
*************
Course Registration
Advanced registration is required. Participants need to register at least two weeks prior to the program date. Applications for registration will be processed in the order they are received and must be accompanied by tuition payment, via check or credit card. All tuition collected is dedicated to the operating costs for the high quality programming provided by AZPREMIER Study Club.
Course Cancellation
AZPerio reserves the right to cancel any course, limit enrollment, modify the course content, or change the location, time, date and faculty of any course. If AZPerio cancels a course, all tuition is refunded. If an individual needs to cancel registration, the tuition will be refunded if the cancellation is received in writing at least seven days prior to the date of the course.
Special Accommodations
It is always our goal to accommodate our attendees as best as possible. If you have specific medical or dietary needs that we should be aware of, please contact Gina Fiorito at least 10 business days prior to the start of the course to ensure arrangements can be made.
Approved PACE Program Provider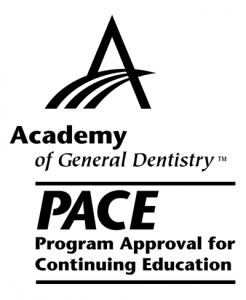 AZPremier Study Club is designated as an Approved PACE Program Provider by the Academy of General Dentistry. The formal continuing education programs of this program provider are accepted by AGD Fellowship, Mastership and membership maintenance credit. Approval does not imply acceptance by a state or provincial board of dentistry or AGD endorsement.